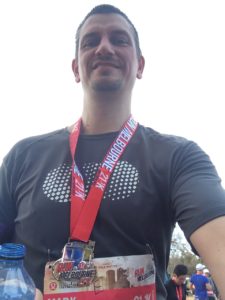 2 weeks ago, I completed my first ever Half Marathon! (21.1km). Overall it was a fabulous experience and the culmination of 5 months hard work after my knee surgery.
The morning started well with my lifts in getting us there in good time and with great parking only a few minutes walk from Fed Square. There was a fair bit of hanging around and chatting while we warmed up and waited for the 7am start.
I started out with my nephew Zach and our friend Sue, but our longer legs left Sue behind at the first hill. We looped around the front of Etihad, along the docs and back past the Polly Woodside. At that point Zach looked at his watch and mentioned we were doing 5-6min/km, which was a fair bit too fast for me, I'd been planning on closer to 7min/km.
I lost Zach when I stopped for a loo stop at 8km and powered on past the 10km mark, realising I was a) Half Way and b) beyond where I'd ever run continuously before. I kept up a solid pace right through to the 14km mark, where I started to walk/run. About this time I spotted both Sue and TP (a friend of Bernie's from School) while we were on a 2-way section of the course, but I never saw them again, despite the fact that TP must have passed me at some stage, as she finished a few minutes ahead of me. (She also did a lot more longer training than I did.)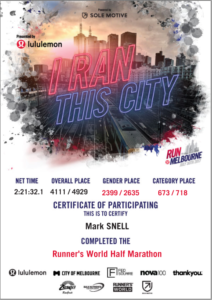 As I ran past the front of Vodafone Arena, I was starting to get some cramps in the top of my calves, but there was a lady in front of me on the bridge across to the MCG that was doing jumping high-knees, and I asked if that helped… She said it was great to stretch the legs differently, so I changed up my stride a bit, was able to relax the calves and keep going. I was about that time that a woman in a Wonder-Woman costume passed me, and I made it my goal to beat her, if I possibly could. My pace picked up to 6, 5 and even nearly 4min/km as I powered home, beating Wonder Woman by a few seconds.
Final time was 2:21:32.1 well inside my goal of 2.5 hours.
Overall, it was a great morning out, topped off by brunch with the guys at Huxtaburger in Rungwood. Lots of fun, I'll be back next year.
My Strava Page has a great interactive view of the run.
Some gratitudes to finish: Huge Thank you to Ross Kinsella for all his efforts and rehab exercises to get to and through my knee surgery in Feb. Leigh Stamation for being my Rehab encourager and trainer!
Everyone from Lillydale Lake Parkrun and Up 'n Active – Further * Stronger * Faster for putting crazy ideas like a Half
Marathon in my head, especially those there on the day: Sue, Geoff, Mak, Eron, Dodge and my chauffeurs on the day Zach & Kylie
Huge thanks to my sweetheart Bernie for love, encouragement and post race massage!
Thank you everyone!
#RunMelbourne2017
Yesterday was a big morning for me at Parkrun.
It was my 50th Parkrun (earning me the shirt to the right), and at the same time I'd set myself a goal of running the 5km in less than 25 minutes, despite the fact that my PB of 25:22 had stood for over 12 months. In fact that 12 months was beginning to feel like a lifetime ago, before my failed snorkeling experience off Mystery Island in July 2016 and before tearing my knee in December and having surgery on it in February. That said, I knew I'd done a lot of work, and as recently as last week, surprised myself by getting to within 7 seconds of that PB. The thing is, I'd set a goal to break 25 minutes a number of times, and never made it.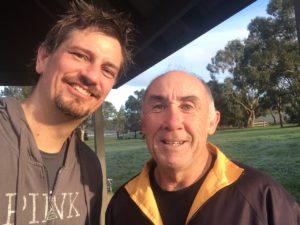 I was buoyed by the offer from Tony to pace me through the distance, a ready eye on his watch the whole time. I was not helped at all by the fact the I had a shoelace come undone about 200m in and the other at about the 1.5km mark. I deliberately decided not fix the second shoelace at the first stop, as it would mean I would end up further back in the pack, there was a chance the lace might last, and my fingers were too cold and numb to tie properly. 😃
In the end all was well, though in giving my all to get across the finish, I didn't manage to grab my finish token and had to go back for it a minute or two later once I'd caught my breath. Position #41, definitely my best position number, but I had to wait a couple of hours to get the official time:
Lillydale Lake parkrun results for event #168. Your time was 00:24:40.
24:40! I'd sliced a whopping 42 seconds off my PB, made it under 25 minutes and survived!
Thanks Tony, and all the people who cheered me on on the day.
I shared in the Five months post surgery knee update that I've been whittling my parkrun times down over the last month, (though not nearly in the same way as my nephew who has recorded 13 PBs in a row, go Zach!). Tomorrow will mark my 50th Parkrun, which is an exciting milestone, 2 years and 4 months after my first run on 21/3/2015. That first run was 36:47, and I'm hoping to celebrate my 50th with a new PB under 25 minutes. My current PB is 25:22 and best for the year is 25:29 so I think I can do it. Tony, a running coach and fellow member of Up 'n Active Lilydale Lake Running Group has offered to pace me at 25 minutes, so we are going to give it a red hot go.
Wish me luck.
The knee is now basically as good as it's going to get, which is pretty good but still a little painful when I run. It's amazing how much difference there is between running on concrete, running on asphalt and running on gravel. There is noticeably less impact on the gravel especially. My time has been taken up by other priorities on and off over the last couple of months but I'm trying to get two to three runs in every week. I did my first Parkrun for the year in late April with a time of 35 minutes and and have progressed through 32, 28, 28, 26 and last week finished in 25:29, just 7 seconds outside my PB!
T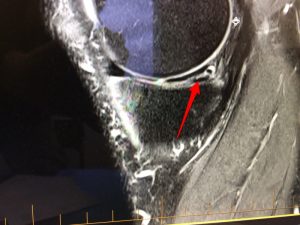 his picture is from the MRI of my knee, showing the actual tear.
Because there is no blood flow to the meniscus (but lots of nerves!) it won't heal (but lots of hurt), so they slice away the rough bits and leave it nice and smooth. I'll have a bit less shock absorption on that side but otherwise it will be fine. It's done via keyhole and I'll walk in and walk out the day of surgery with no crutches required. Rest over the weekend and back to work on Monday.
Surgery in 2 weeks on the 3rd of February at Epworth Hospital in Richmond. I'll take advice from the surgeon when I see him on the 20th of February and work with Ross from Freedom Sports Medicine for rehab. Likely 6-8 weeks off running, probably lots of bike and swimming.
A bit over 6 years ago, I went and spoke to my doctor to "see if there is something that can be done to help me cope better with life, especially the kids and my work load." I was prescribed Lexapro, an anti-depressant at 10mg. They were a game changer for me in many ways, helping me cope better with the goings on of life, but also opening up about how I was truly feeling. Over the years I progressed to 20mg a day (which is ironically about 5% dearer than the 10mg) when things were really difficult between Bern and I. Over the last 7 months, I've slowly weaned myself off them completely, first half a 20mg tablet, then after a few months, half a 10mg tablet, then every second day, then every third, then "I'm not sure when I took one last, so I'm going to stop". This literally took the better part of 5 months, making sure each step of the way that I was coping okay and not going to be a burden on my family in any way.
What does it mean now? I'm not 100% sure, but then, when is anything in life 100% sure? I'm happy, I'm coping, I'm fitter and healthier than I've been in 20 years, which I'm sure is helping, and I have the love and support of my family, which is the main thing.
For now, it's one less bundle of chemicals in my body, I'm $1 a day richer and life is going well.
I hope it is the same for you.
Love & Hugs,
Mark
Dear readers from around the world,
There are a couple of things I'd love you to do below, but first a bit of my story:
Last year I turned 42. A landmark age for anyone who has ever read the Hitchhiker's Guide to the Galaxy. But also a time for a bit of contemplation of the meaning of life. So, I was 42.  I was overweight @ 103Kg (though at 6'3″ (188cm) I carried it fairly well)  depressed, exhausted, grumpy and living in a kind of mental fog. Not a great place to be, but when you get there slowly over many years, you kinda don't notice it.
BUT, this isn't an ad for isagenix (or at least not completely) but there are a couple of things I'd love you to do.
I'd also love you to like our Facebook page where we share a collection of inspiration, motivation, recipes, results and a bit of fun, all relating to making a better you.
Whatever you do, make today a fabulous day!
I posted this challenge to a few people and on the hutch above my desk at work: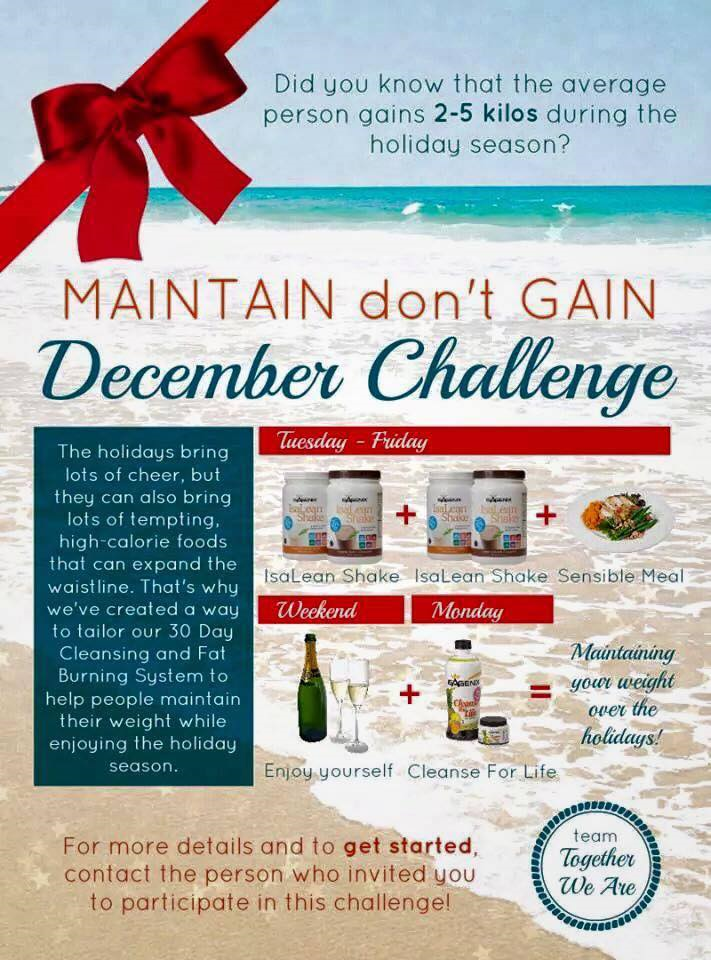 Total weight change for December: down 2.1kg!
I started Isagenix 90 days ago, mainly to support my darling Bernie, but also to shed a bunch of Kg's that seem to have slowly accumulated over the last about 9 years. From the age of about 33 I found I couldn't just eat whatever I like and put on no weight at all. 🙁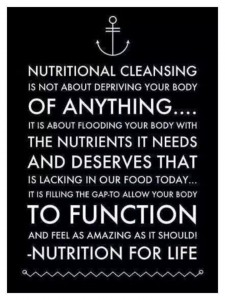 What is Isagenix?
Isagenix is an organic "food system" that takes a balanced lifestyle approach to better supporting the body's natural cleansing and replenishing needs. 
Isagenix is;
NOT a "diet", BUT a sustainable "lifestyle" 
NOT a "weight-loss program", BUT a "body composition system" that builds muscle while burning fat 
NOT a "fast or detox program", BUT a "nutritional cleanse" that supports the body's natural cleansing/replenishing processes with whole-food nutrition.

What I love most are the results; more energy, better sleep, more lean muscle, faster recovery, stronger performance and less body fat!! Transforming lives, one person at a time!!
I have now released 10Kg, and feel so much better! I've also done this with fairly close to no exercise at all. Now is the time for me to start the exercise and really make a difference.
Has it been easy? No, not always. Has it been manageable? Certainly. Have I fallen off the bandwagon and decided I'm eating and drinking whatever I feel like today? Yep, but it often didn't make me feel that great, and I got back on the wagon each and every time.
It's about the little steps.