T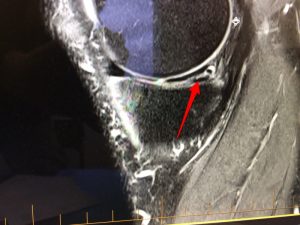 his picture is from the MRI of my knee, showing the actual tear.
Because there is no blood flow to the meniscus (but lots of nerves!) it won't heal (but lots of hurt), so they slice away the rough bits and leave it nice and smooth. I'll have a bit less shock absorption on that side but otherwise it will be fine. It's done via keyhole and I'll walk in and walk out the day of surgery with no crutches required. Rest over the weekend and back to work on Monday.
Surgery in 2 weeks on the 3rd of February at Epworth Hospital in Richmond. I'll take advice from the surgeon when I see him on the 20th of February and work with Ross from Freedom Sports Medicine for rehab. Likely 6-8 weeks off running, probably lots of bike and swimming.
Dear readers from around the world,
There are a couple of things I'd love you to do below, but first a bit of my story:
Last year I turned 42. A landmark age for anyone who has ever read the Hitchhiker's Guide to the Galaxy. But also a time for a bit of contemplation of the meaning of life. So, I was 42.  I was overweight @ 103Kg (though at 6'3″ (188cm) I carried it fairly well)  depressed, exhausted, grumpy and living in a kind of mental fog. Not a great place to be, but when you get there slowly over many years, you kinda don't notice it.
BUT, this isn't an ad for isagenix (or at least not completely) but there are a couple of things I'd love you to do.
I'd also love you to like our Facebook page where we share a collection of inspiration, motivation, recipes, results and a bit of fun, all relating to making a better you.
Whatever you do, make today a fabulous day!
I posted this challenge to a few people and on the hutch above my desk at work: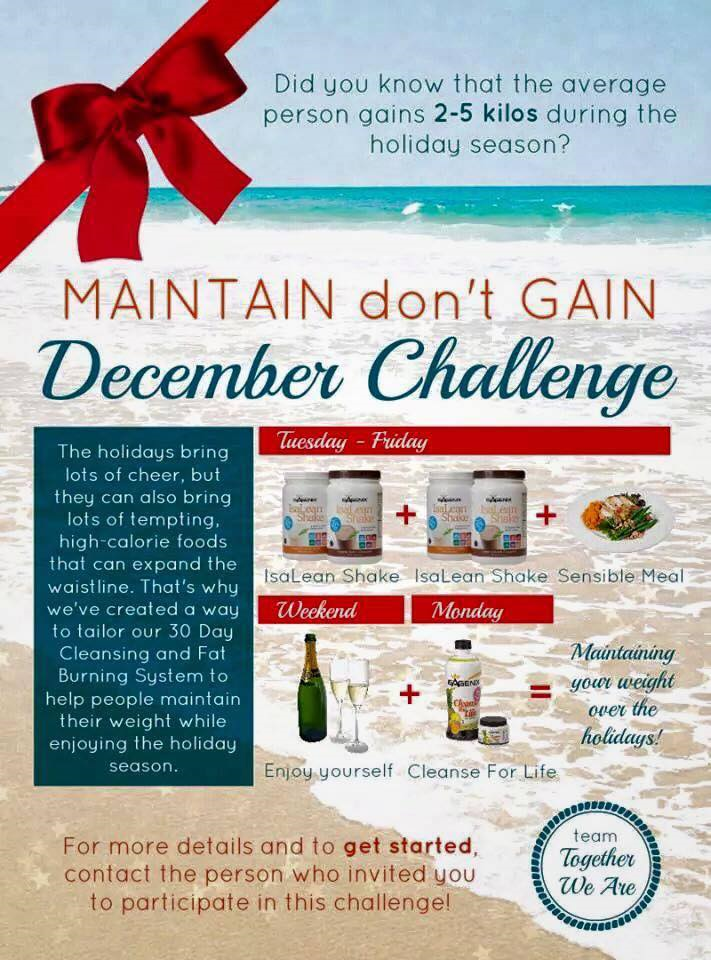 Total weight change for December: down 2.1kg!
I started Isagenix 90 days ago, mainly to support my darling Bernie, but also to shed a bunch of Kg's that seem to have slowly accumulated over the last about 9 years. From the age of about 33 I found I couldn't just eat whatever I like and put on no weight at all. 🙁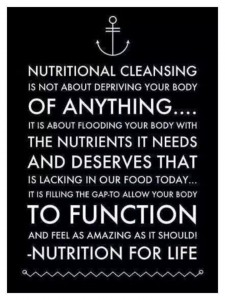 What is Isagenix?
Isagenix is an organic "food system" that takes a balanced lifestyle approach to better supporting the body's natural cleansing and replenishing needs. 
Isagenix is;
NOT a "diet", BUT a sustainable "lifestyle" 
NOT a "weight-loss program", BUT a "body composition system" that builds muscle while burning fat 
NOT a "fast or detox program", BUT a "nutritional cleanse" that supports the body's natural cleansing/replenishing processes with whole-food nutrition.

What I love most are the results; more energy, better sleep, more lean muscle, faster recovery, stronger performance and less body fat!! Transforming lives, one person at a time!!
I have now released 10Kg, and feel so much better! I've also done this with fairly close to no exercise at all. Now is the time for me to start the exercise and really make a difference.
Has it been easy? No, not always. Has it been manageable? Certainly. Have I fallen off the bandwagon and decided I'm eating and drinking whatever I feel like today? Yep, but it often didn't make me feel that great, and I got back on the wagon each and every time.
It's about the little steps.