Official time for the Ned Kelly Chase 1/2 Marathon: 2:23:26 (1 minute 54 seconds outside my PB)
Whilst I missed my original goal of a 12:00 finish which would have given me time of 2:15 and I just missed my PB, I was completely happy with my result, given the preparation I had been able to do.
I had run a total of 20Km in the 9 weeks before the race. Proper preparation would have seen me running 15-25Km per week, but sickness and a heel injury made that simply impossible! Thanks to Caleb, podiatrist from Freedom Sports Medicine for getting me in the best shape possible in the time we had. I'm hobbling a bit today and intend to give my foot plenty of rest for the rest of the year while I keep stretching and strengthening my feet & calves.
For the race itself, huge thanks to Justin & Sharon Scholz for putting on an amazing and unique event. The premise of the Ned Kelly Chase is that the runners are the Kelly Gang, being chased down by the Troopers (cyclists) with everyone (1/2 Marathon (21.1Km), Marathon (42.2Km), 50Km & 100Km runners and 50Km & 100Km cyclists) picking their own start time with the goal of finishing at midday. I was really happy with my judgement finishing at 12:08:26. I would have loved to be fitter, hit the 12:00 mark and score a PB, but that was just not possible this year. As for the race itself, the weather on the day was perfect, the course was simply fantastic: winding it's way through Wangaratta and along the banks of the Ovens River and 1 Mile Creek, and the Volunteers and aid stations were encouraging and well stocked. I thoroughly recommend this race to anyone looking for a great fun race day. There is also a 10Km even earlier in the morning for those looking for a shorter distance. The Dinner and presentation night was great (and in my case early enough to let me attend and still make it back to Melbourne at a reasonable time.) I will be back next year, it might even be my first Marathon!
Thanks to my wonderful teammates from the Up n Active running group! It is great to see everyone out on the course, give them a high-5 and pant a few words of encouragement as you pass by. As you can see from the Jail photo, we had a huge contingent present including 3 podium finishes, Matt 3rd in the 50Km, Mak 2nd in the 100Km and Kylie 1st in the 1/2 Marathon. Special mention to Mak for his 5th straight 100Km Ned Kelly Chase, the only person who has run all 5 in the 100km distance.
Further thanks to my big sister Jen who put me up for a couple of nights so I could attend the race, and mega huge thanks to Bernie and the girls for releasing me for the weekend to attend!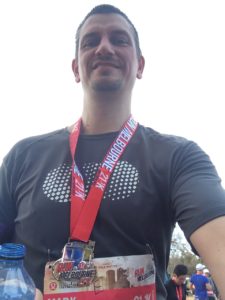 2 weeks ago, I completed my first ever Half Marathon! (21.1km). Overall it was a fabulous experience and the culmination of 5 months hard work after my knee surgery.
The morning started well with my lifts in getting us there in good time and with great parking only a few minutes walk from Fed Square. There was a fair bit of hanging around and chatting while we warmed up and waited for the 7am start.
I started out with my nephew Zach and our friend Sue, but our longer legs left Sue behind at the first hill. We looped around the front of Etihad, along the docs and back past the Polly Woodside. At that point Zach looked at his watch and mentioned we were doing 5-6min/km, which was a fair bit too fast for me, I'd been planning on closer to 7min/km.
I lost Zach when I stopped for a loo stop at 8km and powered on past the 10km mark, realising I was a) Half Way and b) beyond where I'd ever run continuously before. I kept up a solid pace right through to the 14km mark, where I started to walk/run. About this time I spotted both Sue and TP (a friend of Bernie's from School) while we were on a 2-way section of the course, but I never saw them again, despite the fact that TP must have passed me at some stage, as she finished a few minutes ahead of me. (She also did a lot more longer training than I did.)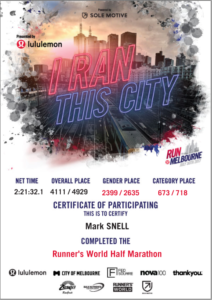 As I ran past the front of Vodafone Arena, I was starting to get some cramps in the top of my calves, but there was a lady in front of me on the bridge across to the MCG that was doing jumping high-knees, and I asked if that helped… She said it was great to stretch the legs differently, so I changed up my stride a bit, was able to relax the calves and keep going. I was about that time that a woman in a Wonder-Woman costume passed me, and I made it my goal to beat her, if I possibly could. My pace picked up to 6, 5 and even nearly 4min/km as I powered home, beating Wonder Woman by a few seconds.
Final time was 2:21:32.1 well inside my goal of 2.5 hours.
Overall, it was a great morning out, topped off by brunch with the guys at Huxtaburger in Rungwood. Lots of fun, I'll be back next year.
My Strava Page has a great interactive view of the run.
Some gratitudes to finish: Huge Thank you to Ross Kinsella for all his efforts and rehab exercises to get to and through my knee surgery in Feb. Leigh Stamation for being my Rehab encourager and trainer!
Everyone from Lillydale Lake Parkrun and Up 'n Active – Further * Stronger * Faster for putting crazy ideas like a Half
Marathon in my head, especially those there on the day: Sue, Geoff, Mak, Eron, Dodge and my chauffeurs on the day Zach & Kylie
Huge thanks to my sweetheart Bernie for love, encouragement and post race massage!
Thank you everyone!
#RunMelbourne2017