Dear readers from around the world,
There are a couple of things I'd love you to do below, but first a bit of my story:
Last year I turned 42. A landmark age for anyone who has ever read the Hitchhiker's Guide to the Galaxy. But also a time for a bit of contemplation of the meaning of life. So, I was 42. I was overweight @ 103Kg (though at 6'3″ (188cm) I carried it fairly well) depressed, exhausted, grumpy and living in a kind of mental fog. Not a great place to be, but when you get there slowly over many years, you kinda don't notice it.
12 months ago my wife Bernie reconnected with an old school friend Nic who introduced us to some products from a company called Isagenix. (
http://www.berniesnell.isagenix.com/
). Bernie jumped on as she was desperate to lose some weight, I tried them to support her and quietly to prove they couldn't really work. I went through a few really tough days giving up coffee before I started, but after 4 days on the program I could feel a difference. After 30 days I'd released 10kg but also lost a stunning 10cm off my waist. That's not the best of it though, I now have clarity of thought like I haven't had in 20 years and more energy than I've had since I was in my early 20's
BUT, this isn't an ad for isagenix (or at least not completely) but there are a couple of things I'd love you to do.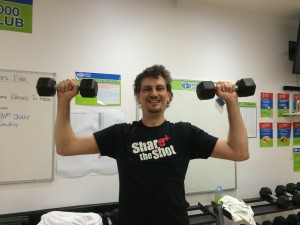 With all this new found energy I had to burn it off somehow, so I've joined a gym where I'm working out 3-5 times a week and also joined parkrun
www.parkrun.com.au
where I do a timed 5km double lap of the local Lillydale Lake on a Saturday morning. Since doing that I've been able to chip 12 minutes off my personal best time from 40 to 28 minutes for 5km. To double up on that, this Sunday I'm competing in Run Melbourne, a 10km run along the Yarra River from the Arts Centre to near Fed Square.
I'd also love you to like our Facebook page where we share a collection of inspiration, motivation, recipes, results and a bit of fun, all relating to making a better you.
Lastly, if you like the idea of what you have heard here, want some more information, or want to get in contact,
email me
your phone number, email address, Facebook details or the latitude and longitude where I can send a carrier pigeon and I'll be in contact.
Whatever you do, make today a fabulous day!