Yesterday was a big morning for me at Parkrun.
It was my 50th Parkrun (earning me the shirt to the right), and at the same time I'd set myself a goal of running the 5km in less than 25 minutes, despite the fact that my PB of 25:22 had stood for over 12 months. In fact that 12 months was beginning to feel like a lifetime ago, before my failed snorkeling experience off Mystery Island in July 2016 and before tearing my knee in December and having surgery on it in February. That said, I knew I'd done a lot of work, and as recently as last week, surprised myself by getting to within 7 seconds of that PB. The thing is, I'd set a goal to break 25 minutes a number of times, and never made it.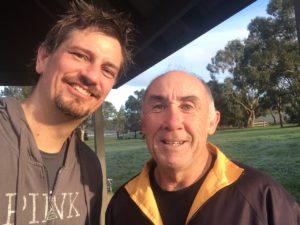 I was buoyed by the offer from Tony to pace me through the distance, a ready eye on his watch the whole time. I was not helped at all by the fact the I had a shoelace come undone about 200m in and the other at about the 1.5km mark. I deliberately decided not fix the second shoelace at the first stop, as it would mean I would end up further back in the pack, there was a chance the lace might last, and my fingers were too cold and numb to tie properly. 😃
In the end all was well, though in giving my all to get across the finish, I didn't manage to grab my finish token and had to go back for it a minute or two later once I'd caught my breath. Position #41, definitely my best position number, but I had to wait a couple of hours to get the official time:
Lillydale Lake parkrun results for event #168. Your time was 00:24:40.
24:40! I'd sliced a whopping 42 seconds off my PB, made it under 25 minutes and survived!
Thanks Tony, and all the people who cheered me on on the day.