Lizzie had her 9th Birthday on the weekend as a Minecraft party where yours truly was crazy enough to setup 8 computers (plus a server and my laptop) on the dining room table so Lizzie, Beccy and her friends could all play Minecraft together on a dedicated server.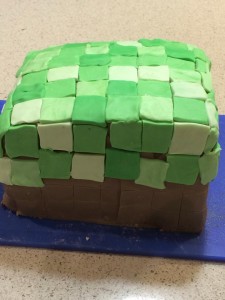 We had lots of Minecraft themed foods, with raspberry licorice as TNT, red, blue, green, yellow, brown and orange M&Ms as redstone, diamonds, slime balls, gold nuggets, coal and carrots respectively. There was also cookies, chicken (nuggets), torches (chips), sticks (fries) and of course the cake:
They had a ball, though there was some griefing at times, and the noise was a bit overwhelming for the aspi's at some points.
We even had one of the other dads join in for "5 minutes" when he came to pick his son up.
There is a collection of further photos below.
One further addition was some signage around the house. We had the sign on the front door, as well as signs on the girl's bedroom doors. in keeping with the warning, I setup iPods in each of the girls rooms, plugged into a dock/speakers, playing Skeleton and Zombie sound effects through the respective web pages. The Zombie's worked much better, they just have better sound effects.